Stay Warm With The Perfect Winter Beverage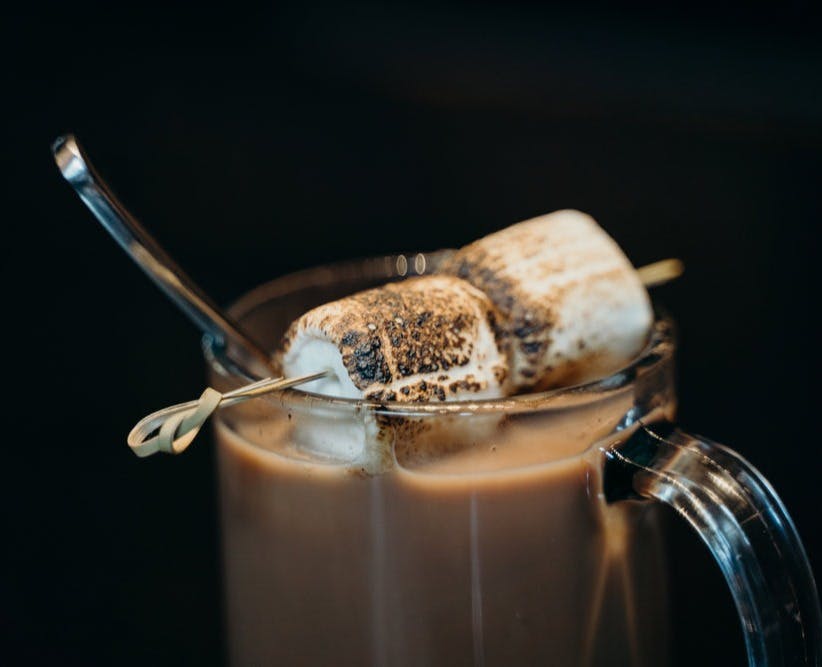 For decades, the Cedar Door Patio Bar & Grill has offered a special winter drink menu. To enjoy our outdoor patio with beautiful views of downtown during the cold winter months, we've found it takes a couple of key ingredients; patio heaters, a hot boozy beverage, and a little determination.
We've found through years of experimenting that making a delicious hot drink is not as easy as it sounds. Here are a few tips and tricks we've learned that may help in recreating some of these hot treats at home.
Tip 1:
Monitor the temperature of your water. Alcohol will lose its potency and alcohol content when it is heated too high. This leaves you with a drink that tastes strong but is quite the opposite. At the Cedar Door, we use a home coffee brewer that is set at 170 degrees. Pure alcohol has a boiling point of 173 degrees as opposed to the standard 212 degrees. When experimenting with your hot drinks at home, make sure you use a thermometer with your water.
Tip 2:
Use a sweeter liquor or sweeter ingredients. When the temperature of your drink gets higher, the less you will taste the sugary sweetness of whatever you put in it. We've found using classically sweeter alcohols like Bailey's, Frangelico, Kahlua, slightly sweeter bourbon's such as Eagle Rare, and flavored vodkas yield the best results. By doing so, you save yourself from having to add to much sugar or sweetener.
Tip 3:
A little cream goes a long way. Using just a small amount of heavy cream or half and half will make your drink smooth and creamy. We have found that milk does not give you that same "soul-warming" effect as cream. In addition to being delicious on its own, a small layer of cream has an impressive added effect. The whipped cream serves as a barrier making the smell of your drink less powerful. Since smell is a huge part of taste this allows your taste buds to be the first to experience your drink during each sip instead of your nose. Try a little at home and see for yourself! We think you will be surprised how much it makes a difference.
Tip 4:
Part of what makes winter drinks cozy and fun is that they are an adult version of the warm drinks you already love. Whether it's coffee, tea, or hot chocolate as a base, sometimes the easiest and most delicious hot drinks just involve a spin on a classic. Add a little Frangelico to add a delightful hazelnut flavor to your afternoon coffee or use vanilla or chocolate vodka to add some a little punch to your hot chocolate.
We invite you to give one of our winter drinks a try on your next visit! Whether you're here for a private event, out on the patio by a heater, or feeling cozy inside, our Espresso Hot Chocolate, Hot Buttered Rum, or Spiced Chai Hot Toddy is sure to make your winter evening a little better. We think you'll enjoy it so much that you're going to want to make a couple at home. Using these tips and a little creativity, you'll be able to make your own delicious version at home.